Sublime Champagne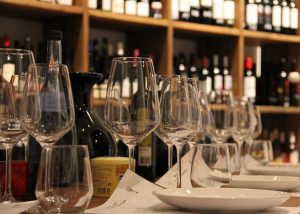 Early evening at a wine store in Mannheim, south of Germany.
Wine enthusiasts are gathering for a tasting.
Not really sensational such a gathering but the reason actually is.
A small champagne estate in Damery, west of Épernay,
one of the few traditional ones still being family owned
and carrying a household name.
Champagner AR Lenoble
An immigrant from Alsace, Antoine-Raphaël Graser founded the estate Damery in 1920. And because he felt his family name would sound too alienating, he called the estate Lenoble. Combined with his two Christian names the new label was born.
1947 the founder died falling in a tank during the harvest. Until now a lovely story for the family about their ancestor.
From son to grandson and nephew the estate stayed in family ownership.
Since 1993 great-granddaughter Anne Malassagne is managing the business, supported by her brother Antoine in the vineyard and in the cellar.       
The estate holds 44 acres and produces 320.000 bottles annually.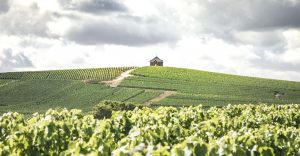 And is therefore the smallest champagne producer of the region.
They are harvesting according to eco-farming principles.
Also beehives are around the wineyards and accordingly there is a small selection of Lenoble honey.
They cultivate three vineyard crus:
Grand Cru Chouilly (Chardonnay), Premier Cru Bisseuil (Pinot Noir), Damery (Pinot Meunier).
And the headquarter is still the old location in Damery.
All wines are from the wood, either in 225l or 5000l barrels.
They are being fermented 3 years and thereafter another 9 month in the bottle.
The estate holds, like all champagne houses, a imposant stock of reserve wines.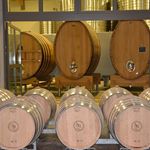 Just explaining this briefly as it will play a role in the tasting notes. It is a characteristic of the Champagne region. A part of the wines is being kept in barrels to create blends once the second fermentation occurs.
Thus the champagne house guarantees the same taste each year despite different harvests.
Vintage champagne of course excluded. This vinification differs vastly from the classical winegrowing, where the deviation between years is actually what we are looking for and like to taste.
But so is the Champagne region. And so is her characteristic.
Important for the estate is the balancing of the acidity.
Therefore there will never be more than 6g/L tirage liquer.
Another small distinction: Lenoble is bottling into black bottles .
Forget about big names, it's all hollow words. We are not interested either in awards and accolade the estate gets primarily in the English press.   
We will let the noble grape speak for itself.
Cared for by the lovely wine shop owners accompanied by a very informative as well as entertaining moderation of the sales agent we are indulging into a world where champagne is no longer luxurious accessory.
But a perfect company for food and a tasteful contemporary.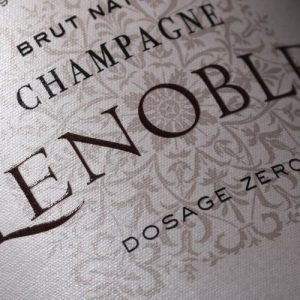 AR Lenoble Dosage Zero
30% Chardonnay, 35% Pinot Noir, 35% Pinot Meunier
Harvest: 2011 ; 22% from reserve
Severe taste of butter at first. After field herbs and pomelo.
Palate of soft but compact perlage. Nutty, a hint of white bread. Enduring taste light and pure, fresh acid combined with brioche
and citrus fruits.
Not entirely my favorite as the acidity is clear as a night full of stars. 
Dishes: good soloist as an aperitif
Oyster, poached scallop with saffron sauce; puff pastry.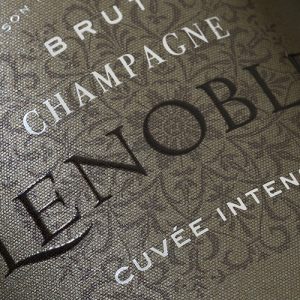 AR Lenoble Intense Brut
30% Chardonnay, 35% Pinot Noir, 35% Pinot Meunier
Harvest 2011; 18% from reserve;  5g/l residual sugar
Hazelnut, bread crust, orange infatuates the nose.
Dark fruit flavor follows on the palate.
Fine perlage, acid is well embedded.
Finish of elder, nuts, orange, hints of smoke.
good allrounder
Dishes: mousse from tomatoes with focaccia bread, parmesan flan with fried red mullet and lightly marinated vegetables; roasted veal with tuna sauce and baguette.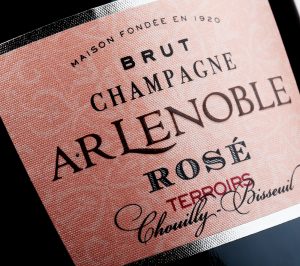 Rosé Terroirs Chouilly – Bisseuil Brut
88% Chardonnay, 12% Pinot Noir,
harvest: 2012; 35% from reserve; 5g/l residual sugar
This champagne is only being produced in exceptionally good vintages
Severe nose dissolutioned by cherry, elder, orange, nutmeg.Outstanding perlage at the palate, followed by almond and elder. Finish swart, broad albeit still fresh.
Compact, delicate and harmonious.
Dishes: Serrano ham with black olive tapenade; goat cheese tart with figs. Poached fish with celery and potatoes' flan. 
Now we are looking at two vintage Grand Cru de Blanc in comparison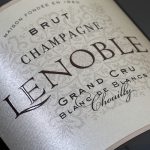 Grand Cru Blanc de Blanc, Chouilly
100% Chardonnay
Vintage 2012; 30% from reserve; 5g/l residual sugar
Rich aroma of white flowers, roasted bread crust, overripe grapes, hazelnut, apricots.
Tasteful at the palate, much glaze, hazelnuts, almonds, acacia honey.
Wide range of fruity aromas in the long finish, combined with firn and strong acid.
Nicely balanced champagne; versatile and animating.
Dishes: Focaccia bread with marinated tuna and soy; mild cheese with walnut bread and olive butter. Grilled crab tails with prawn and curry sauce. Cheese fondue – my favorite.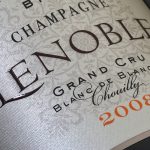 Grand Cru Blanc de Blanc, Chouilly
100% Chardonnay
vintage 2006; 4g/l residual sugar
Smoked malt, roasted coffee beans, smoke, graphite, roasted almonds.
The flavor echoes at the palate accompanied by cinnamon, toast, hazelnuts combined with a soft and balanced perlage. Finish wide, strong, soft and cavernous.  
This champagne should be relished solo, sip by sip.
Dishes: Crème Brulee, fig-goats cheese mousse, tart tatin with basil ice cream 
Finally one last jewel
Premier Cru Blanc de Noir, Bisseuill
100% Pinot Noir,
vintage 2009; 4g/l residual sugar
Brute at the nose with natural resin, bushes, pieces of orange, raisins.
Firn at the palate, raisins, iodine, dark chocolate, orange, light astringen.
Finish with dark notes and light acid.

This champagne should be enjoyed now as it is exorbitant but it is only for connoisseurs who appraise of a certain gloominess of champagne.
Dishes: grey filled with spinach and sun-dried tomatoes; quail with raisin sauce; spring chicken with roasted prawn; celery, Jerusalem artichoke, matured cheese.

Exiting and delightful tasting.
This estate has made me make an exception as usually my writing focuses on every day wines with moderate price. However in this league you will find hardly anything comparable.
Every noble grape is absolutely worth their cost.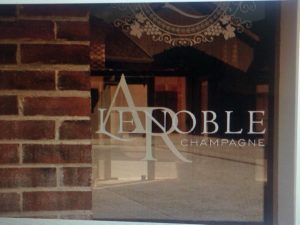 AR Lenoble Dosage Zero                   € 32,95
AR Lenoble Intense Brut                  € 34,95
Rosé Terroirs Brut                             € 44,95
Grand Cru Blanc de Blanc 2012      € 44,95
Grand Cru Blanc de Blanc 2006     € 69,95
Premier Cru Blanc de Noir 2009    € 69,95
all champagne by wine4friends
Picture right of the wineshop by wine4friends.
All other Picture rights are with the estate AR Lenoble.
A special and heartfelt Thank you to Anne Malassagne for her warm-hearted support.